Home
»
Bookings & Vouchers
Bookings & Vouchers
 My promise to my clients is to provide a unique experience that is fun, rewarding and most importantly affordable for all. My clients are from all walks of life and all ages. A colour analysis is ideal for young teenagers as a confidence booster and it is never too late, even for slightly older ladies, as can be seen by my 84 year young client I saw recently!
Your personal one to one colour analysis consultation:
A low price of just $85 will cover an individual consultation, your unique colours fabric swatch and pouch, and your season's fashion tips sheet.
Payments can be made via cash, EFTPOS, VISA or Mastercard.
A colour analysis with a best friend or girls group is a great way to pamper yourself, and can kick start a great weekend way with the girls. For group bookings or for an ons-site colours workshop phone Jan for her special offer.
Testimonial:
I really enjoyed my colour analysis session with Jan.  I now have a good understanding of the colours that suit me best and find shopping easier as I can zero in on the colours that I know suit me and not consider the others.  I found clothes in my wardrobe that I now wear with confidence and have culled many that do not look good.  I carry the swatches of my colours with me when I go shopping.  I'm very glad I spotted the brochure about Jan's Colour Analysis.
Best wishes,
Judy
Vouchers:
Gift Vouchers are also available make a fabulous gift and provides someone with a truly personalised experience. To give a friend or relative a  wonderful gift that is valid for up to 12 months just call me to arrange for one.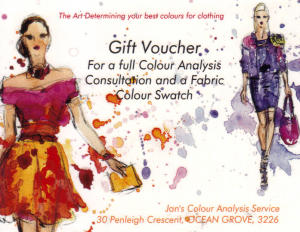 For bookings please phone ahead on:
 Mobile: 0412 813 845
OR
Booking Times:
Monday, Tuesday, Friday: 9.00am to 5.00pm by appointment
Saturday: 9.00am to 2.00pm by appointment
Guest speaking:
I am also available as a guest speaker for women's groups in Geelong and the Bellarine Peninsula. This can be a great fundraiser or just a social event.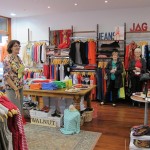 Ocean Grove Stylish Scarves:
I have an extensive range of beautiful stylish scarves to suit all tastes and seasons at very affordable prices. With over 40 years experience in the boutique fashion industry I can assist you select a scarf that will not only highlight your personal skin and hair tonings, but become a valuable accessory that will coordinate with all your clothes.
  
 Ocean Grove Scarf Workshops

Website design by John D Flett